Praktisk informasjon/Practical information
(English text below)
Markedet for scenekunst foregår i Hjertnes kulturhus som ligger i Sandefjord kommune.
Kulturhuset er tilknyttet Scandic Park Hotel Sandefjord der deltagerne og scenekunstgruppene bor. Vi bestiller hotellrom for påmeldte deltakere som ønsker overnatting. Deltakere betaler hotellet ved utsjekk eller på faktura etter avtale.
Ankomst:
Fra Torp flyplass går det tog og buss til Sandefjord sentrum. Fra begge stasjonene er det en kort spasertur til kulturhuset. Ved ankomst med bil, anbefaler vi parkeringen mot sjøen på nedsiden av Scandic Park Hotel Sandefjord. Her er det rimelig døgnparkering.
Våre spillesteder: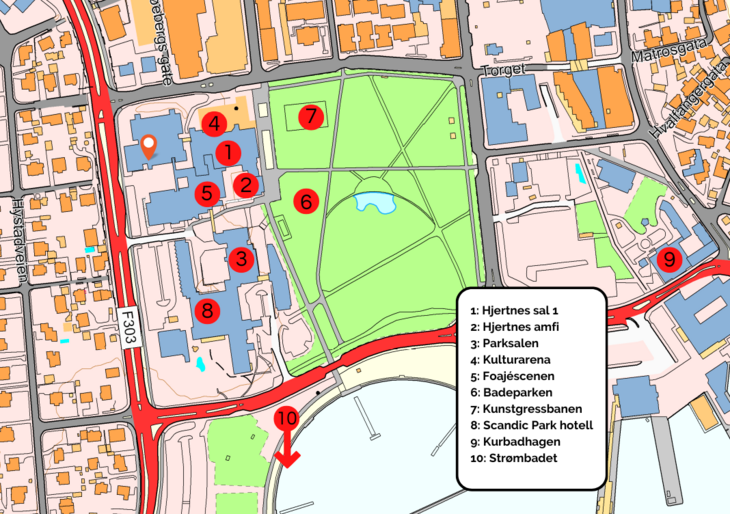 In English:
The Market for Performing Arts takes place in Hjertnes Civic and Theatre Centre, located in Sandefjord municipality.

Arrival:
From Torp airport there are trains and buses going to Sandefjord city centre. From both the bus and train station it is a short walk to the cultural centre.
If arriving by car, we recommend parking on the side of Scandic Park Hotel Sandefjord facing the harbour, where you will find affordable parking at all times.
Her finner du Hjertnes kulturhus og Scandic park hotel Sandefjord/Here you will find Hjertnes Civic and Theatre Centre and Scandic Park Hotel Sandefjord: